Class 1B (Mrs Bateman)
Welcome to Year1B
Mrs Bateman &
Mrs Donohue
Summer term. This term we will be learning...
English Phonics - Practise reading real and nonsense words with Phase 5 sounds. Read and spell longer words by using the sounds we know.
Writing - Learning about books by the same author (Martin Waddell and Oliver Jeffers) Watch out for our new Talk4Writing text coming soon...
Handwriting - We will continue to practise all the cursive letters we have learned with a focus on keeping our letters the same size.
Maths - We will be adding and subtracting numbers on a numberline. Then we will be introducing multiplication and division. Our problem solving skills will focus on using trial and error and drawing a picture.
Science - Materials is our new topic. We will be identifying properties of materials and then using this knowledge to plan and carry out imvestigations and scientific tests. We will be learning about different ways to record what we have found out.
History - Our transport topic will have us finding out about the Wright Brothers. We will look at using historical evidence to paint a picture of the past.
Geography - UK - We will continue our UK topic by creating a booklet for tourists with information about the UK and writing a report.
Computing - We will be learning about E safety when we use our logins to access our online paint package. We will then use the paint package to create illustrations.
PE - Tennis - Ryan the tennis coach will be teaching us tennis skills . Games - Invasion games - With Mrs Jones, we will be learning about space and movement to play small games.
RE - What makes places sacred? We will continue looking at places of worship for Christians and Jewish people.
Music - Use your imagination - We will be looking at pulse, rhythm and pitch. We will be using our voices and instrument to practise these skills.
Art - line and shape - With Ms Plant we will continue work on line and look at how line can be used to create shapes and form.
Look what we have been learning
14th June
Art
We worked with Ms Plant in our art work today using clay. We began to look at papier mâché birds and how their heads, body, beak and tail were formed. Ms Plant gave us each some clay and we used the palms of our hands to pull and mold the clay into a cylinder shape. It was hard to not use our finger tips to shape the birds, but we knew that by doing this we would not dry out the clay. Then we began to squeeze and pull at the clay to make a sphere for the head, pinching at the face for a small pointed beak. Finally we stretched out the body to create a tail.
Ms Plant encouraged us to use our own ideas as to how our birds should look, what direction their heads were facing and how the tail is formed. This was great fun and encouraged our unique designs. Some of us even made small holes and lines to give the effect of eyes, wings and patterns on our bird. Next our birds will be left to dry and then fired in a kiln - this will ensure that they keep the shape that we have given them.
12th June
PE
Today we started our cheerleading lessons with Vicky. We did a warm up and cool down at the start and end of our lessons so that we don't hurt our muscles. Then we learned some basic cheerleading moves that we used to start a cheerleading routine. We learned the
T, broken T, high V, low V, L and backwards L.
We put all of the moves together for the start of our routine.
"1, 2, 3, 4, cheerleaders on the floor, 5, 6, 7, 8, cheerleaders looking great!"
23rd May
Design Technology
We had a fabulous morning baking bread with Mrs Tatham today! She talked to us about how she used strong white flour, sugar, salt, dried yeast, milk and warm water to make the dough for us. We then had to knead our dough for 5 minutes. This felt like a long time and we had to really concentrate and make sure we were using our knuckles. Next we had to cut the dough into 6 equal pieces so that our rolls cooked evenly in the oven. Mrs Tatham then showed us how to create a round roll, a cottage loaf, a knot, a swirl, a twist and a plait. We followed our instructions and made our own. Some of them were very tricky!! We were very grateful for our Year 6 helpers!
We also did a bit of a science investigation. Miss Webster put the dried yeast in a transparent bottle with some sugar and warm water. She put a balloon over the top and we left it to see what happened. We noticed that the balloon started to blow up. We noticed that there were bubbles on the top of the liquid and Freddie explained that "the yeast was making bubbles and the bubbles were going into the balloon where they popped. This meant that there was more air in the balloon, so it blew up." This was a fantastic explanation of what was happening.
Art
We continued to work with Ms Plant in art looking at line. We looked at how line can be used to create shape. Our inspiration for the lesson was cave art that is thousands of years old. We looked at lots of examples in our art gallery and had to explain which ones we liked and why we liked them. We had another activity where we used charcoal and chalk to form the shape of a hand by drawing lines over the edge. We explored the effects that we could create by smudging the lines. We then experimented with different colours. Look at some of the fabulous work we created.
PE PE days are now Tuesday and Wednesday
Lesson 2 with Ryan, the tennis coach.
We learned co-ordination skills today that we need to play a game of tennis. We had relay races using the tennis racket and ball. We ended the lesson with a game of skittles where we recapped the forehand volley from last week and tried to knock the other team down.
We carried out a scientific investigation to find out which paper makes the best paper aeroplane. We thought about how we could test this out. We made aeroplanes out of different types of paper and flew them. We decided that the best material would be the one that went the furthest. Some groups had some surprising results!
We were sent a mystery letter today from Samuel P Langley asking us to spy on a mystery shed. We took up the challenge and took it in turns to peep through the shed walls and draw what we could see on the other side. In our groups we had to piece together the information we had. We worked out it was the Wright Brothers first aeroplane. We then had a surprise visit from the Wright Brothers ...(well Mrs Bateman and Miss Meredith). We asked them lots of questions to find out more about them and they told us that Samuel P Langley was one of their competitors trying to steal their ideas! Luckily we did not pass on our top secret information!
Grounds sponsored event making a willow tunnel.
We worked with our link class 4B to help create a willow tunnel. We used fork and a spiker (which we had to hit with a hammer, we managed not to hit any fingers!) Then we tied the willow sticks together that we had planted. They are already starting to show some green buds. It was great fun and hopefully we will raise lots of money for our school.
Don't forget to collect your sponsor money and send it in!
We finally got to make our fruit kebabs today! We used our designs and followed the instructions we had written. They tasted really yummy. we want to try them again at home!
We had a fantastic day for world book day. We got together with our link class 4B to share some stories together in the new infant library. The juniors were very good teachers and read to us and even let us read their books too! It was really fun!
We went on a treasure hunt around school. Hidden in our classroom and around school were envelopes with money in. We had to count the money that was hidden in each envelope and work out which had the most in. We practiced counting in 2s, 5s and 10s to count the values of the coins.
To get us ready to innovate our Talk 4 Writing story Stanley's Stick, we have been using our imaginations! We all had a stick and we looked at it first and wrote down adjectives to describe what it was like. We tried to think about what it looked like and also what it felt like. Then we lived in our own world of imagination and thought about what our stick could be...just like Stanley. We had loads of ideas; from a hook for a pirate, to a tree for a fairy to live in. From a paintbrush to paint the best pictures to an anchor to stop a ship from sailing away. We even had an underwater telescope and a walking stick for a very old man!
We walked to St Mary's Church too see what features we could find. Canon Chris talked to us about what it is like in a service.
To finish off our unit of work on moving pictures we enlisted a bit of extra help!
We had a fabulous morning with lots of extra volunteers to help us to create our finished products. We used our designs to create a moving picture to tell the story from a Traditional tale. have a look at us in action. see if you can spot our moving mechanisms...there are sliders, levers, wheels and lift the flaps!
To get ready for our new design and technology unit making a healthy snack, we have been tasting fruit. We tasted different fruits to help us decide which ones we want to use to make our fruit kebabs. Some were delicious, some we were not too sure of and some we definately did not like at all!
We have been learning about line in art. We learned how to create line in different media. We have used pencils, crayons, scissors and ink. It was great fun seeing the different lines we created come alive on the page and take on a life of their own.
All these happy readers have zoomed round the racetrack twice already! Well done and keep bringing your signed book in every Friday!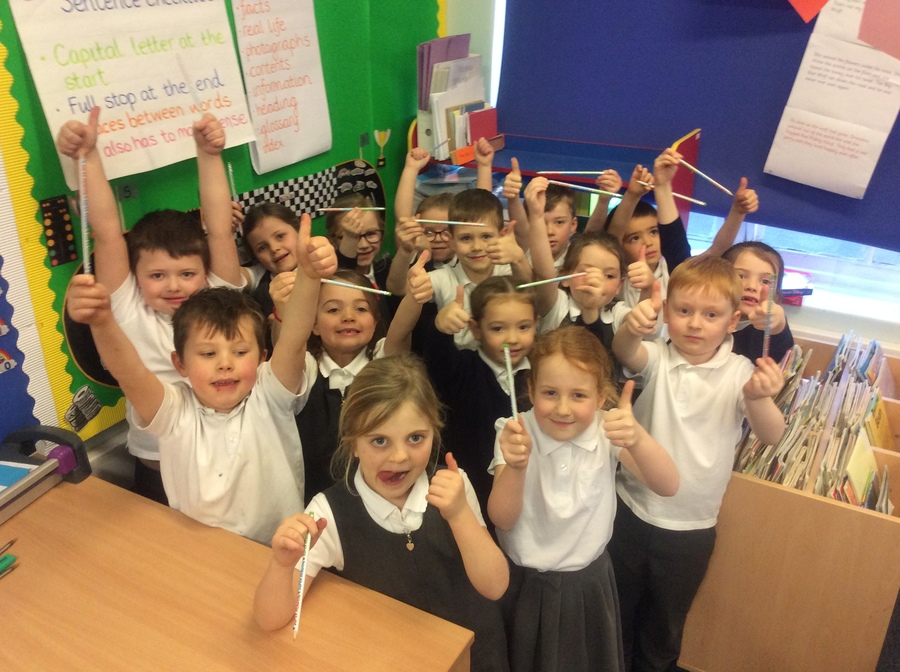 We spent a fabulous morning in the Junior Department with Mrs Tatham, decorating Christmas cookies. The children did really well following the instructions carefully. Although, we are not sure very many will make it to Christmas!!! They were all very keen to eat them!
We have been intrepid explorers this week! We have been putting our map skills to the test by finding our way around the school. We looked at a plan view of the Infant building and then used our map to locate rooms within the school. We practised orienting the map by turning it the same way we are facing to help us find our way around and know where things are. We tried to label all the rooms on our map. It was quite tricky!
It was even more of a challenge when we ventured across the field to do the same in the Junior building. Even Mrs Bateman and Mrs Donohue needed a map to help them find where all the classrooms were!
We have started work on Moving Pictures. We evaluated existing products by looking at books that have moving parts. We looked at the mechanisms that are used to make the parts moved and thought about how we could recreate them. we are going to be designing our own moving picture to tell a Traditional Tale to Reception children...Watch this space!
Science
We wanted to find out which flavour popcorn was the class favourite. We thought about how to answer the question and also how to show what we had found out in different ways.
We found out that most people in the class like sweet popcorn. Mrs Bateman knows which one to buy when we choose cinema for our treat time!!
Geography
Before we start our mapwork, we have been learning what an aerial view is. We imagined that we were the smartest giant in town and looked down on everything, this is an aerial view. We then imagined that we were the small goat from the story, this is a normal view.
We have had a fantastic first week in 1B. Have a look at some of the things we have been doing...
Reminders
Monday - Reading books
Tuesday - Homework handed in
Wednesday - Class library books, PE
Thursday - Homework given out, PE
Friday - Reading books, Reading racetrack books