Reception - Class R0 (Mrs O'Grady)
Welcome to Class R0.
Mrs O'Grady, Mrs Slattery and Mrs Webster.
Red group children are taking part in the sponsored event tomorrow morning- 8th March- they need to be in their outdoor clothes ( jogging bottoms etc) and bring in their sponsor form.
Blue and green group children will do the same next Thursday 15th March.
Our museum play moved indoors today thanks to the weather! The children asked for the large paper and then designed where the animals would live in the museum. They had to work out who was in charge of which part of the museum and then Mr Redmond found us some badges so we could all make staff name labels. Some of the children decided we needed to have information sheets for the different types of animals and also a map so visitors would know where to go. We also had a group making tickets.
They also decided to measure how long the walls were using tape measures.
The children have been doing some fantastic imaginative play outside this afternoon.
We made a museum and then they had the idea of drawing a plan and making tickets which led to some fantastic mark making! We had to problem solve because the paper kept flying away and also make a big enough fence to keep the dinosaurs in!
Don't forget our Phonics meeting on Wednesday 28th February at 6.30pm. (In the infant hall.)
Mrs O'Grady noticed that we are really enjoying building towns and cities in the block area so she added some buildings for us to use.
We also have a new games area where we can play a game or even make up our own game and play it with a friend. We have to be very good at giving instructions, following instructions and taking turns.
The children had lots of fun in the snow this morning. We had a super snowman and fantastic teamwork to make it. Some of the children noticed there was water dripping off the shelter and worked out it was the snow melting from the roof. We even had some mark making in the snow.
We have had lots of fun learning our new Talk for Writing text, We're going on a Bear Hunt.
The children watched a clip of author Michael Rosen telling the story and used his ideas to make up the actions for the story. We have had bear hunts outside and are even using the story in our dance lessons with Mrs Jones.
The children have retold the story using the small world tray. They have also made their own story maps and innovated the story themselves. Some of the children completed the rainbow challenge to make a cave for the bear, it could be in any area of the classroom so we had playdough, cardboard, wooden blocks and lego caves made.
Keep an eye out for some super writing!
Mr Moulton came to talk to the children about the sponsored event to build a willow tunnel. We are really looking forward to having our turn. Don't forget to fill in the sponsorship forms.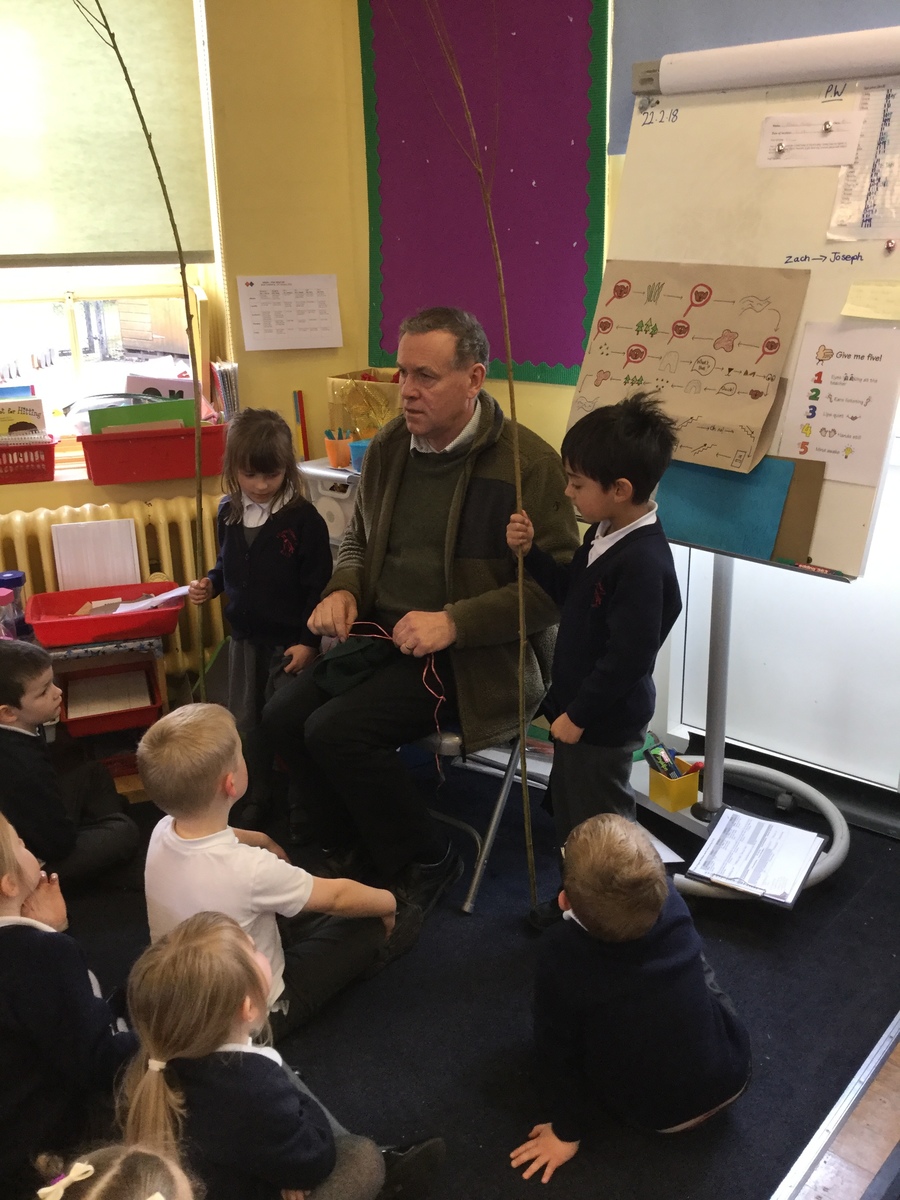 The children were very excited to see a new area of provision this morning. They had a new creative area where they can paint, draw or both. This week their challenge is to create some spring flowers.
Mrs O'Grady had been busy over the holidays improving her painting skills and had made some cable reels to add to the block area as the children love it so much!
The children had a parcel delivered to school this morning. It was full of scented play dough and some wooden characters from a story. They quickly worked out it was our next Talk for Writing story, We're going on a bear hunt.
PLEA:
If you have any empty hand soap dispensers or squeezy, plastic ketchup or sauce bottles please can we have them for our creative area?
Thank you.
It is really important that the children bring back their reading books on Mondays and Fridays.
They also need their little, yellow tricky word cards in school daily so that we can check them and give them the next set. Lots of children are bringing their word cards back, thank you.
The children really enjoyed learning about Chinese New Year. We tasted some Chinese food, retold the story of the zodiac and even made our own dragon parade.
This week we will be celebrating Chinese new year (it is in half term). The children will be tasting some Chinese food, spring rolls, prawn crackers and egg fried rice.
Please let me know of any allergies.
As part of our Talk for Writing lessons we have learnt a new type of text. This time we have learnt a non fiction report about elephants. This will help the children with their English skills by giving them a different genre to learn.
They have really enjoyed learning this text and we will be making up our own animal report next week.
The children have been making some fantastic models in the block area. They have really thought about what they are making and have been using tape measures to see how long they were. You will notice we have lots of extra resources in the block play so that the children can really think about a purpose for their models.
We have a rule that if you leave a model out it must have a sign on it which has led to some super independent writing.
Phases- the children have now learnt a lot of the phase 3 sounds and we are now busy recapping the sounds and applying our knowledge in our reading and our writing. Here are the sounds we have learnt.
The children have really impressed us with how quickly they have settled back in to school after the Christmas holidays.
We have been very busy learning lots of new things and practising our skills. We are now nearly at the end of the phase 3 sounds which is fantastic. Lots of the children are very confident blending and segmenting simple CVC words,
eg c-a-t=cat or dog = d-o-g.
A simple game you can play to support this skill is Simon Says. Instead of saying Simon says stand up , why not try 'stand u-p' and get the child to blend the sounds in the words together. They could even give you the instructions to follow.
We have been busy learning another Talk for Writing story, Elmer the Elephant.
This story has really captured the children's imaginations and we have innovated it by changing the character from Elmer the Elephant to Sam the Snake.
We have been working very hard on our pencil grips and letter formation too and the children have produced some amazing pieces of writing this week. We couldn't believe how fantastic they were. You can really see how much progress the children have made with their phonics knowledge and their confidence!
Check out our Pobble page to see who has been 'Pobbled' this week!
In Maths we have been looking again at addition and what the + and = symbols mean. We have found out how to 'read' a number sentence and have then used counting on to work out the answers. Try some simple addition calculations at home when you are playing, eg 4 cars + 5 cars = 9.
We have also started to look at a number track and worked out which way to move along it if we are adding.
Don't forget to upload any photographs or observations onto 2simple2buildaprofile.
It could be a photograph of your child learning a new skill like riding their bike, maybe a photograph of them counting a set of objects or maybe some simple writing like a letter to Father Christmas.
It would be lovely to see how you and your family celebrate Christmas too.
It's really important that we have your input on your child's learning journey. Any problems just ask.
This week in maths we have started to look at how to combine 2 sets of objects to add them together and find the total.
We have counted the 2 groups carefully first and then counted how many objects there are altogether.
We have introduced the vocabulary add, plus and equals and the symbols + and =.
Try counting 2 sets of objects at home, it could be peas and carrots on your plate.
How many have you got altogether? Can you write a number sentence to match it? eg 2 + 3 = 5
The children have had a fantastic time this morning making snowman cookies for Christmas with Mrs Tatham from the junior site. They all worked very hard and they look fantastic!
Don't forget to have your yellow high frequency word cards in school each day so we can check them and give the children the next set. They are really helping us with our reading.
We had a visit from the dental nurse this afternoon to talk to the children about how to brush their teeth. She also told us about the types of food to eat and what to avoid!
Don't forget to have the your high frequency word cards in your bag so they can be checked and the next set added!
Reading books are changed on n Monday and a Friday.
The children have worked really hard on their phonic knowledge and we are now at the end of phase 2. Here are the sounds they should know so far...
The children have learnt their new Talk for Writing story, The Little Red Hen. They changed the setting and 3 of the characters to make up a new story.
Wednesday- Library books are changed. The children will be able to change their library book when they bring one back. Please share your child's library book with them and enjoy the story!
PE will be on a Tuesday morning with Mrs Jones.
We really enjoyed learning our first Talk for Writing text " How to catch a star."
The children were taught a story with actions and then they learnt it off by heart. We used the story to invent our own stories based on the original text.
The children decided to change our story to " How to catch a flying saucer." It was fantastic!
Today was a fantastic first! The children in R0 got changed for PE for the first time ever. It was a great success, thank you to everyone who has been practising at home.
We have worked very hard in our phonics lessons. These are the sounds we have learnt so far, we are very good at the actions that go with each sound which helps us to remember them.
s a t p i n m d g o c k ck e u r h b f l
We can read some simple words using these sounds (phonemes) and we are also learning how to write the sounds using the correct letter formation. (A letter formation sheet will be coming home this week for practising writing names.)
The 'ck' is a special sound as it is made up of 2 letters but it only makes 1 sound. We usually find this phoneme at the end of a word like back.
To read simple words we can say the sounds in the order they appear (we have to remember to start from the left hand side!) We then count the sounds in the word and then blend the sounds to read the word. We are also very good at using sound buttons to help us to read the words.
We are also using these sounds to write simple words. We say the word and then robot talk it to segment the sounds. We can count the sounds using our fingers and also can use a phoneme frame to write the words. The rule is one sound in each box.
For our maths this half term we have been working on our counting skills. The children have been busy counting out objects accurately and then finding the matching numeral.
Each day we count the number of children in the class and work out how many are off.
Can you count forwards and backwards to 30? Remember those teen numbers can be tricky!
One of the areas we have in the classroom is the funky fingers area where we work on our fine motor development. Some of the activities we have had are pegging pegs onto number cards, using tweezers to rescue stars from a net and this week we have to see how many spinning tops we can spin in 1 minute. It's harder than it sounds!
Mrs O'Grady managed 4.
Through all of these activities we are strengthening our fingers in order to help develop our pencil grip. We are also developing other skills like hand eye coordination, getting ready for reading and writing by holding one hand still while the other is moving, perseverance and resilience.
Here are some of the ways we hold our pencils at the moment. We are all aiming for a tripod grip by the end of Reception.
Ideas for developing fine motor skills at home... play dough - rolling, pinching, stretching, twisting, pushing and pulling the dough... using pegs on a washing line....lacing beads...balancing marbles on golf tees... doing up buttons... fastening zips....lego...duplo.