Welcome to Nursery - Mrs Carr and Miss Dale
Nursery Teddy Bear's Picnic and Sports Day
Nursery have had a fantastic Sports Day! We have been practising our throwing, balancing, crawling, jumping and ball skills ready for Sports Day, we were in 5 different teams and did 5 different activities. We were so excited that our grown ups and teddies could come and watch!
After our Sports Day, we went and sat under the tree to have our Teddy Bear's Picnic. It was lovely to have lots of snacks and chat to our friends. We had a great day!!
Biscuit decorating with Mrs Tatham
We were very lucky at nursery to have another visit from Mrs Tatham! Today we have decorated a flower biscuit and a ladybird biscuit. We had to listen very carefully to the instructions. We talked about numbers, shape, colours and parts of the ladybird and flower.
We learned about rolling, folding, pressing, spreading and sticking to get the shapes exactly right. The nursery children followed the instructions really well and the results were amazing!
Talk For Writing
We have been reading The Gingerbread Man as part of our Talk For Writing. The children have enjoyed re-telling the story with signing, acting it out with masks, in the small world area and joining in with 'hot seating' (questions and answers with the characters in the story).
Seaside role play
Lots of children returned after the half term telling us they had been to the seaside! To encourage their talking and to extend their enthusiasm we changed our role play area into a beach! The children have been fishing in rock pools, building sandcastles, having picnics and even swimming in the sea!
The Royal Wedding
The Nursery children listened carefully as we talked about the Royal Wedding. We watched some videos showing the preparations happening in London, then we decided to have our own royal wedding in Nursery!
We made bunting and flags, some children designed dresses and cakes, we made rings for the bride and groom and found some wedding outfits! The guests were seated, the music played, rings were exchanged and everybody clapped! What fun! We can't wait to watch the real wedding tomorrow!
Talk for Writing - The Very Hungry Caterpillar
We're really enjoying exploring our Talk for Writing story. We have re-told the story using actions, acted out the story using masks, asked the caterpillar and butterfly some questions, printed our own caterpillars, played The Very Hungry Caterpillar games, made playdough caterpillars and we're even lucky enough to have our own real caterpillars in nursery!
Living Eggs!
Day 10 - Goodbye chicks! We're really going to miss our little friends but we had a great time watching them grow. The 3 girls have gone to a new home with Bobby's family and the 6 boys have gone to a farm in Malton, North Yorkshire. Bobby said he will let us know how the hens are doing so we are looking forward to that. In the meantime we will be watching our caterpillars grow, they will soon be making themselves a cocoon!
Day 8 & 9 - The chicks are growing bigger and bigger every day, we can't believe it was only a few days ago they could fit into an egg!
Day 6 & 7 - The chicks have grown so much over the weekend! Now that they are bigger and stronger we were able to take them out of the brooder to have a closer look. We took them out and held them very gently.
Spent the weekend at Mrs .Carr's house!
Day 5 - All 9 chicks have been moved into the brooder now so we can have a better look at them!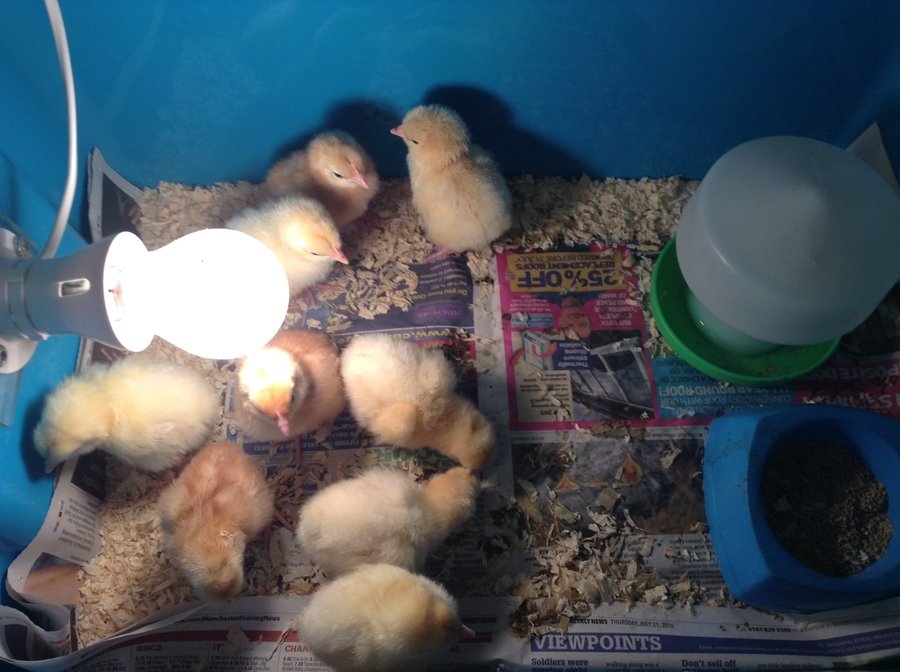 Living Eggs!
Day 4 - We have 9 chicks now and have moved most of them into the brooder where they have a little more space. Look how cute they are!
Day 3 - Good news when we came in to Nursery this morning, 5 of the eggs had hatched! The children were so pleased to meet them and have even started thinking of names for them!
By the end of the day, 3 more had hatched so we have a grand total of 8 chicks. Living Eggs said anything over 5 is good so we are pleased we have 8, but we are keeping our fingers crossed for the last 2!
Day 1 and 2 - The Nursery children are very egg-cited as we have 10 chicken eggs at Nursery! They arrived here on Day 19 and are due to hatch on Day 21. They are in the incubator now and we will have them for 10 days before they are returned to the farm. We will keep you updated!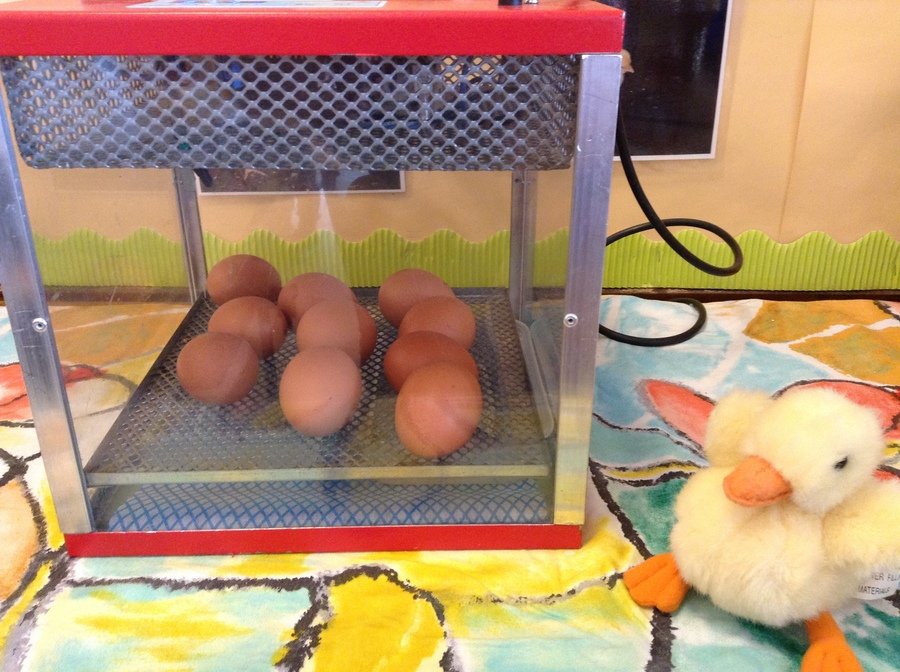 Happy Easter!
It's nearly Easter and we're busy making Easter crafts in Nursery, we also made some Easter bonnets at home - look how fantastic they are! There were prizes for the best bonnets - well done Florence and Phoebe!
Sponsored Event - Building a Willow Tunnel
The Infant and Junior site teamed up again last week to create a spectacular Willow Tunnel. Each nursery child was paired with a Year 6 child and they braved the wintery weather together!
Under Mr. Moulton's instruction, the children carefully hammered a hole into the ground with a 'spiker', put the Willow tree in the hole, then bent it into an arch shape and helped tie it together. It will look fabulous when it starts to grow!
Thank you for supporting this activity, the money raised will go towards resources for the school.
World Book Day
We love books in nursery and love listening to stories, today we were lucky enough to have some of the juniors come over and read some stories. Thank you Year 6 we had a lovely time!
** Snow day! **
We were so excited when it snowed that we decided to wrap up, go out and explore! We looked at our welly and shoe footprints, we felt the snow with our hands, did some mark making and talked about the texture, it was so fluffy! We made snow balls and a fantastic snowman and even got some powder paints, brushes and pipettes to paint the snow. What fun!
We're Going on a Bear Hunt - Talk For Writing
Our new Talk for Writing book is We're Going on a Bear Hunt by Michael Rosen.
We quickly learned the story off by heart after watching Michael Rosen doing an animated retelling of the story! The children then took the story off into their play, outside they have been changing the story and hiding and running away from the bear! They have used the small world area to re-enact the story, using the book to check what comes next and also adding themselves into the story using their 'mini me's'.
Chinese New Year
Kung Hei Fat Choy!
We have been talking about and celebrating Chinese New Year! Some children have been to China town and said they saw dragon dances and firecrackers, we made our own firecracker noises by bursting bubble wrap!
The home corner is now a Chinese restaurant and we have been trying hard to use the chopsticks, its very tricky! We even tried some real Chinese food, prawn crackers! Delicious!
We have been making Chinese Fortune Dragons, Chinese New Year cards and Chinese money packets to bring us good luck in the Year of the Dog!
Expressive Arts and Design
When we read Elmer as part of our Talk For Writing text, the children noticed and commented on all the different colours and asked if they could paint their own Elmers. We printed out some Elmers with lots of different squares so the children could choose their colours and practice controlling their paint brush within the lines.
We also explored colours by using a pipette to do splattery paintings. We guessed which new colours we could make by mixing primary colours.
We've had messy fun practising writing our names and numbers in the shaving foam using a paintbrush!
We really enjoyed making our Valentine's day cards this year. We used potatoes with a heart cut into it, dipped them into red and pink paint and pressed them onto some card to make fantastic prints, we added a little glitter, we hope you liked them!
Children's Hospital
The children decided it was time to change our role play area, they thought about it and some children suggested it could be a Children's Hospital. We added lots of different resources and the children have really enjoyed looking after the babies, talking to the patients, giving injections, putting bandages on and writing prescriptions!
Talk For Writing - Elmer
Nursery have really enjoyed learning the 'Elmer' story this half term. The little elephant made us all laugh with his jokes.We have learned the story of Elmer, enjoyed signing the story, acting out the story with masks, acting it out and changing the story in the small world area with puppets and even painting our own Elmers!
Topic Work
This half term we have been talking about birds in winter. We have been looking for them outside with binoculars, some of us have even made our own binoculars! We found out that birds find it harder to find food in the winter so we wanted to help by making bird feeders. We mixed bird seed and lard together into a cup, let the feeders set in the fridge and then took them home to hang in our gardens!
Christmas Performance
The children have worked really hard to get our Christmas Sing along ready! We enjoyed dressing up and singing Christmas songs, we hope you enjoyed it too!
Christmas is Coming...
We are super excited about Christmas in Nursery! We have been making Christmas crafts, writing letters to Santa, writing Christmas cards, doing Christmas colouring and decorating the Christmas tree by the fireplace in the 'Cosy Christmas Cottage'. We even had a visit from Santa!
Cupcake decorating with Mrs Tatham
Last week we were lucky enough to have Mrs Tatham come for a visit to Nursery to do cupcake decorating with the children. They all listened so carefully to the step by step instructions on how to decorate their snowman and christmas tree. We were so impressed at how they concentrated on the task. The children were really proud of what they made and we hope you were too! Thank you Mrs Tatham!
Talk for Writing
We have enjoyed learning the story of 'The Little Red Hen'. We re-told the story with signs, used the animals in the small world area to tell the story and acted it out! We even did some 'hot seating' and asked the animals why they didn't help the little red hen!
Nursery have been looking at a special book as part of our literacy called, 'How to Catch a Star'. We have listened to the story and learned how to re-tell it using signs. We enjoyed making stars out of different materials and catching and counting magnetic stars that were floating in the water!
Nursery Info
Please could you provide a draw string bag for your child's peg with their spare clothes in.
Please could you label all your children's clothes (even their spare ones). Thank you.
Library books are changed every Friday.
Kevin and Betty (class bears) go out / return on Mon, Weds and Friday.